Backward New Zealand paper prints disgusting Second World War propaganda fever .... how embarrasing!
Backward New Zealand paper prints disgusting Second World War propaganda fever .... how embarrasing!
Germans:
ruthless efficiency
Germany's most remarkable youth programme since HITLER YOUTH
damn Aryan
Cheering for the Germans? Nein!

NEW ZEALAND HERALD (a right wing, corporate whore newspaper in Auckland)..
by Dylan Cleaver -- Monday Jul 5, 2010

By the time you reach a certain vintage you've dealt with most of life's big challenges, from student loans and the death of a parent through to ingrown toenails.
But when you think you're prepared for just about anything this world can throw at you, something comes along that threatens your equilibrium. That something could be about to happen.
The Netherlands and Germany are hurtling towards a July 12 meeting at Soccer City and here's the thing: if there's any justice in the round-ball world, Germany will win.
It is not set in stone, but the Dutch will be heavily favoured to beat Uru, the last remaining wise Guay. Spain, quarter-final vanquishers of Uru's mate Para, have the elan but maybe not the cutting edge to match Germany.
You read that right. The Germans have style. They have shed the cliche of ruthless efficiency and pragmatism, of being little more than penalty shootout kings, by playing an intoxicating brand of pass-and-run soccer.
Unsullied midfield stars Thomas Mueller and Mesut Ozil represent Germany's most remarkable youth programme since ... no, we won't go there, while Bastian Schweinsteiger, unstoppable against Argentina, has emerged as the most influential player in South Africa.
On the other hand, watching this Netherlands team has been like an art lover walking into the Louvre and finding some punk has pencilled a moustache on the Mona Lisa.
Take away the orange shirt and this Netherlands team has nothing on its predecessors - Rinus Michels, the architect of "total football", must be doing Cryuff-turns in his grave.
The country that produced Johan Cryuff, Rudi Krol, Johnny Rep, Johan Neeskens, Ruud Gullit and Marco van Basten now spits out Dirk Kuyt, Mark van Bommel and the snivelling little Arjen Robben, a man-child so unsteady on his feet and of such low pain threshold that if he were a horse he'd be taken out back and shot.
This Dutch team is not lacking in skill, but, with Robben diving and whining and van Bommel kicking everything that moves including, but not exclusive to, the ball, they are lacking in class.
This is where it all gets so confusing for the "neutral" like myself, because neutrality has only ever been fun when it has allowed you to side with the Dutch. The Dutch are colourful, they are fun, they are good.
The Germans are monochrome, they are unsmiling, they are bad.
There's no point pretending, either, that World War II has been forgotten
In Simon Kuper's "Football is war" essay, part of his acclaimed Football Against the Enemy, he writes of the days following the Netherlands' breakthrough 2-1 win over West Germany in the semifinal of the 1988 European Championships in Hamburg.
It was true that the Dutch, particularly those who had been, or had relatives in, the Resistance, did not particularly like the Germans, but until that night it had never really permeated through to soccer the way it does with the English.
After the final whistle in Hamburg, though, more Dutch took to the streets in celebration than on any night since the Liberation. In Amsterdam they threw their bikes in the air and chanted "We've got our bicycles back" in reference to the German confiscation during the war. Another chant that starts, "In 1940 they came/ In 1988 we came" left even less to the imagination.
It didn't help that while European society was changing so dramatically in the 1980s, the Germans still managed to look so damn Aryan.
The Netherlands were cool, though. They had become cosmopolitan, reflecting the influx of migrants from Suriname in particular, with Gullit, Frank Rijkaard, Edgar Davids and Clarence Seedorf parking themselves so comfortably among all the Vans.
Such stereotypes no longer hold.
Of Germany's five strikers, two are Polish (Miroslav Klose and Lukas Podolski), one is Brazilian (Cacau) and one has a Spanish father (Mario Gomez). Midfielders Ozil and Sami Khedira are of Turkish and Tunisian extraction respectively.
Marko Marin is a Bosnian Serb and Piotr Trochowski is Polish. Defender Dennis Aogo has a Nigerian father, Jerome Boateng is Ghanaian and Serdar Tasci is Turkish. The days of Schumacher to Stielike to Breitner to Briegel to Rummenigge are long gone.
Compare, too, the European giants' quarter-final defeats of the South American behemoths.
The Netherlands could not match even a watered-down Brazil for pace and sophistication so they chased, harried and goaded them into errors, twice scoring on set pieces. Brazil midfielder Felipe Melo had an unhappy night, but it could be argued he deserved a medal, not a red card, for stamping on Robben.
Germany under dynamic and well-groomed coach Joachim Loew sliced and diced Argentina in a way that was not just emphatic, it was artful.
Germany, from a purely footballing perspective, are impossible to dislike.
But sometimes that is not enough.
When the cheese on toast pops out of the oven at 6.30am next Monday morning, if it works out that there's one team in Orange and another in White, I'm taking the Orange.
There's no logic in sport, just an equilibrium that must be maintained.
THE BRITISH ARE MAKING FUN OF THEMSELVES
Osama bin Laden has just released a new tv message to prove he is still alive. He said that the England Team performance on Saturday was completely sh*t. British intelligence have dismissed the claim, stating that the message could have been recorded anytime in the last 44 years.

Robert Green - The only man to leave Africa with out catching anything .
In a statement from broadcasting house, all future England games will now be shown on the gay porn channel. It is thought that 11 assholes being regularly shafted is too explicit for regular tv.
I can't believe we only managed a draw against a shit team we should easily have beaten.......I'm ashamed to call myself Algerian.
I went to the Doctors and it turns out I have the Rob Green virus. No Idea how I caught it.
The England team went to visit an orphanage in South Africa this morning, "It's so good to put a smile on the faces of people with no hope, constantly struggling, and facing the impossible" said Jamal Omboto, aged 6.
Fifa have released a statement saying the fan didn't break into the dressing room after all, but was let in by Rob Green.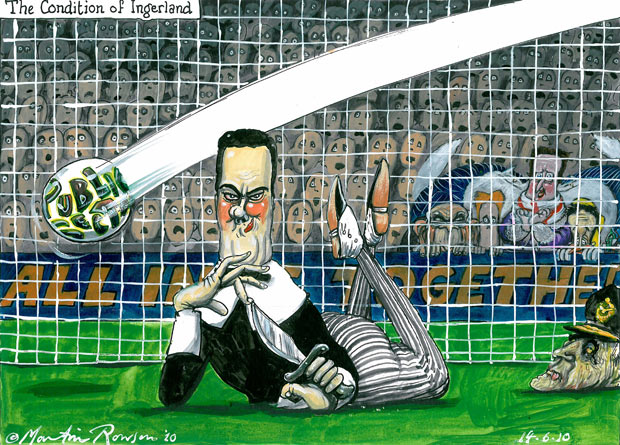 What's the difference between Rob Green's spill and BP's spill?
- Robert Green has got a cap for his.
| | | |
| --- | --- | --- |
| Wayne Rooney   | Frank Lampard     | Kris Boyd        |
Just seen the new Shrek film. Awful. Shrek does nothing for 90 minutes then has a go at the audience for booing!
Fabio Capello was wheeling his shopping trolley across the supermarket car park when he noticed an old lady struggling with her bags of shopping. He stopped and asked, "Can you manage dear?" To which the old lady replied, "No way. You got yourself into this f.....g mess, don't ask me to sort it out..."
WINNING IS A BIT HUMOURLESS...  maybe the dutch will do the germans a favour!
The real problems...
Stumble It!