Eye Candy ... good looking humans
egg sperm chromosomes marriage agent partner sex .... sex .. sex ...

But in our modern world, being sexy does NOT mean you are successful in the HAPPY LIFE category. Why is that? Simple! We are deluded by a manufactured dream-world. Our desires are controlled. Our consent is manufactured, the business-banking doctrinal system wants us to fear and consume. Am I beautiful enough?


H
uman sexuality : biological factors, such as organic and neurological response, heredity,
hormones
, and sexual dysfunction; basic functions of reproduction and the physical means to carry out sexual intercourse. The biological perspective helps to analyze the factors, and ultimately aids in understanding them and using them to deal with sexual problems.
Scarlett Johansson wins sexiest body award
Hollywood beauty Scarlett Johansson has been hailed as having the sexiest body in the world.
The Lost In Translation star, who was once described as "criminally sexy" by director Woody Allen, came top in a poll for Glamour magazine, ahead of actress Jessica Alba and supermodel Gisele Bundchen.
The magazine says, "With curves to rival Marilyn Monroe's, Scarlett embraces old-school Hollywood style."

1.Scarlett Johansson

Scarlett Johansson (born November 22, 1984) is an US American actress and singer.

Johansson was born in New York City. Her father, Karsten Johansson, is a Danish-born architect, and her paternal grandfather, Ejner Johansson, was a screenwriter and director. Her mother, Melanie Sloan, a producer, comes from an Ashkenazi Jewish family from the Bronx.

Johansson's ex-boyfriend and member of the band Steel Train, Jack Antonoff

She has been linked to many famous men, including Benicio del Toro, Jared Leto, Justin Timberlake, and her Black Dahlia co-star Josh Hartnett, though Johansson denies she had a relationship with del Toro. Johansson and Hartnett dated for about two years until the end of 2006, with Hartnett citing their busy lives as the reason for the split.

She started dating Canadian actor Ryan Reynolds in 2007, and on May 5, 2008, it was reported that the two were engaged. On September 27, 2008, Johansson and Reynolds were married at a quiet ceremony on Vancouver Island in Tofino, British Columbia.
She gets tested for HIV twice a year.

2. Jessica Alba
Jessica Marie Alba (born April 28, 1981) is an US-American television and film actress. She began her television and movie appearances at age 13 in Camp Nowhere and The Secret World of Alex Mack (1994). Alba rose to prominence as the lead actress in the television series Dark Angel (2000–2002).[2][3] Alba later appeared in various films including Honey (2003), Sin City (2005), Fantastic Four (2005), Into the Blue (2005), Fantastic Four: Rise of the Silver Surfer and Good Luck Chuck both in 2007
Alba is considered a sex symbol and often generates media attention for her looks. She appears frequently on the "Hot 100" section of Maxim and was voted number one on AskMen.com's list of "99 Most Desirable Women" in 2006, as well as "Sexiest Woman in the World" by FHM in 2007
While filming Dark Angel in January 2000, Alba began a three year relationship with her co-star Michael Weatherly, which caused controversy due to their 12 year age gap. Weatherly proposed to Alba on her twentieth birthday, which she accepted. In August 2003, Alba and Weatherly announced that they'd ended their relationship. In July 2007, Alba spoke out about the break up, saying "I don't know [why I got engaged]. I was a virgin. He was 12 years older than me. I thought he knew better. My parents weren't happy. They're really religious. They believe God wouldn't allow the Bible to be written if it wasn't what they are supposed to believe. I'm completely different." Alba had at one time said she envisioned a much older man as her ideal partner, making references to Morgan Freeman, Sean Connery, Robert Redford, and Michael Caine. She said, "I have this thing for older men. They've been around and know so much."
Alba met Cash Warren, son of actor Michael Warren, while making Fantastic Four in 2004. On December 27, 2007, Alba and Warren announced that they were engaged. Alba married Warren in Los Angeles on Monday, May 19, 2008. On June 7, 2008, Alba gave birth to a baby girl, Honor Marie Warren, at Cedars-Sinai Medical Center in Los Angeles, California. The first pictures of Honor Marie appeared in OK! magazine, which paid a reported $1.5 million for them. Alba has said that she would like to have more children.
3. Gisele Bundchen
Gisele Caroline Bündchen (born July 20, 1980) is a Brazilian model and occasional film actress. According to Forbes, she is the highest-paid model in the world and also the sixteenth richest woman in the entertainment world, with an estimated $150 million fortune.
Since her debut, Bündchen has been the face of a variety of advertising campaigns including several seasons of Christian Dior, Balenciaga, Mervyn's, Dolce & Gabbana, Missoni, Versace, Givenchy, Bvlgari, Lanvin, Guerlain, Valentino, Ralph Lauren, Earl Jean, Zara, Chloé, Michael Kors, Louis Vuitton and Victoria's Secret. She has appeared in advertisements for Nivea lotion and is the face of several Brazilian brands including Vivo, Multiplan (Shopping Malls), Colcci, Credicard (Citibank) and Volkswagen do Brasil. After C&A Brazil hired Bündchen as a spokesmodel and began airing television commercials, sales increased by 30%.
On Thursday, February 26, 2009, Bündchen married New England Patriots quarterback Tom Brady in a small Catholic ceremony in Los Angeles. On April 5, 2009, the couple remarried in Costa Rica with Brady's son, John Edward Thomas Moynahan, present. For the ceremony, Gisele wore a dress and veil designed by famed fashion designer John Galliano. Bundchen's three dogs were also present at the ceremony. Bündchen and Brady had been dating since late 2006. Before marrying him, she dated actor Leonardo DiCaprio and professional surfer Kelly Slater. On Friday, June 19 2009, People magazine reported that Gisele was pregnant with her first child with husband Tom Brady. The baby is due around January or February 2010.
On April 11, 2008, a black-and-white photo of Bündchen, shot by Irving Penn, was auctioned for US$193,000 (£96,000). The picture was one of dozens from the collection of Gert Elfering that were sold at Christie's International in New York. In all, the auction tallied US$4.27 million and included pictures of Brigitte Bardot, Kate Moss, Naomi Campbell, Christy Turlington and Carla Bruni. Bündchen's picture reached the highest price in comparison with the others. Bardot was the second with US$181,000 (£90,000).
Bündchen would wear a two piece Cia Maritima bikini bearing the iconic image of Latin American Revolutionary Che Guevara at a Sao Paulo fashion show during 2007. Che's daughter, Aleida Guevara March, finding it distasteful would speak out against her late father's image being used on a swim suit saying, "I have heard of a Brazilian fashion designer making underwear with my father's face on it. We can't accept that from him or anyone else. We do not want any money, we just want him to stop this." Alberto Korda's Guerrillero Heroico image was never copyrighted which has lead it to be used in hundreds of different ways, but this marked the only time that a Guevara family member spoke out against a Che product.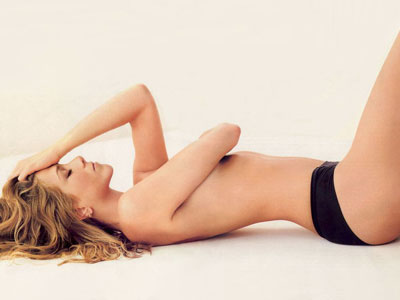 4. Jennifer Aniston
Jennifer Joanna Aniston (born February 11, 1969) is an US-American actress. She became famous in the 1990s for her role as Rachel Green in the popular US sitcom Friends
In addition to her career as a TV actress, Aniston has enjoyed a successful film career. Her biggest box office success to date was her appearance in 2003's Bruce Almighty, in which she played the girlfriend of title character Jim Carrey
Aniston dated her Ferris Bueller costar Charlie Schlatter in 1990. She began a relationship with Daniel MacDonald in 1991. They broke up in 1994 shortly before she was cast in Friends. She briefly dated musician Adam Duritz in 1995. From 1995 to 1998, she was romantically involved with actor Tate Donovan and the couple were reportedly engaged.
In 1998, she began dating actor Brad Pitt and married him on July 29, 2000, in a lavish Malibu
wedding.
For a few years, their marriage was considered the rare Hollywood success. However, the couple announced their separation on January 6, 2005. Pitt became involved with actress Angelina Jolie, though Pitt has denied cheating on Aniston with her.
Following her divorce, Aniston began a relationship with actor Vince Vaughn, with whom she costarred in

The Break Up

.
Relationship troubles were reported in September 2006, followed by a confirmed split in December of that year
She briefly dated male model

Paul Sculfor

for a few months in 2007. In April 2008, she began dating singer John Mayer. The couple had broken up after a seven-month courtship in August, but resumed the relationship in October, before splitting again in March 2009. Aniston has had two septoplasties to correct her

deviated septum

—one which was incorrectly done in 1994 and the second in January 2007. Septoplasty is a surgical operation that helps alleviate a common condition that can lead to breathing difficulty and trouble sleeping.


5. Angelina Jolie
Angelina Jolie (born Angelina Jolie Voight on June 4, 1975) is an US-American actress.
On March 28, 1996, Jolie married British actor Jonny Lee Miller, her co-star in the film Hackers (1995). She attended her wedding in black rubber pants and a white shirt, upon which she had written the groom's name in her blood. Jolie and Miller separated the following year and subsequently divorced on February 3, 1999. They remained on good terms and Jolie later explained, "It comes down to timing. I think he's the greatest husband a girl could ask for. I'll always love him, we were simply too young."
Jolie has said in interviews that she is bisexual and has long acknowledged that she had a sexual relationship with her Foxfire (1996) co-star Jenny Shimizu, "I would probably have married Jenny if I hadn't married my husband. I fell in love with her the first second I saw her."
In early 2005, Jolie was involved in a well-publicized Hollywood scandal when she was accused of being the reason for the divorce of actors Brad Pitt and Jennifer Aniston. The allegation was that she and Pitt had started an affair during filming of Mr. & Mrs. Smith (2005). She denied this on several occasions, but admitted that they "fell in love" on the set.
During the summer Jolie and Pitt were seen together with increasing frequency and most of the entertainment media considered them a couple, dubbing them "Brangelina". On January 11, 2006, Jolie confirmed to People that she was pregnant with Pitt's child and thereby confirmed their relationship for the first time in public.
On January 19, 2006, a judge in California approved Pitt's request to legally adopt Jolie's two children. Their surnames were formally changed to "Jolie-Pitt". Jolie gave birth to a daughter, Shiloh Nouvel, in Swakopmund, Namibia, by a scheduled caesarean section, on May 27, 2006. Pitt confirmed that their newly-born daughter would have a Namibian passport, and Jolie decided to sell the first pictures of Shiloh through the distributor Getty Images herself, rather than allowing paparazzi to make these valuable photographs. People paid more than $4.1 million for the North American rights, while British magazine Hello! obtained the international rights for roughly $3.5 million. All profits were donated to an undisclosed charity by Jolie and Pitt
6. Mischa Barton
Mischa Anne Marsden Barton, (born 24 January 1986) is a British-American film, television, and stage actress, perhaps best known for her role as Marissa Cooper in the American television series The O.C.
When asked in interviews if she feels English or American, she states she feels English.
Barton moved to New York City at the age of five and became a naturalised citizen of the United States in Los Angeles on 3 February 2006. Barton graduated from the Professional Children's School in Manhattan in 2004,
Barton has been in many television commercials and print advertising campaigns. Barton has modeled for companies Calvin Klein, bebe stores, Aéropostale, Monsoon Accessorize, Dooney & Bourke, JC (Jeans and Clothes), European clothing line

Morgan de Toi

, Jaspal, and Neutrogena skincare products. She became the

spokesperson

for Keds Sneakers, substantially increasing their sales.
Barton's previous boyfriends have included Cisco Adler, Taylor Locke, Jamie Dornan, Brett Simon, and

Brandon Davis

. In December 2008, there were reports that she was dating The Kooks frontman Luke Pritchard.The reports were confirmed during the relationship by Pritchard; Barton only confirmed the relationship after the pair split in March 2009, writing on her blog: "I think Luke is a great guy, but the type better suited as a friend.
Barton was admitted to Los Angeles psychiatric hospital Cedars-Sinai Medical Centre on

17th July

2009 following a reported mental breakdown.
Barton was arrested on suspicion of driving under the influence, possession of

marijuana

, and driving without a valid license on December 27, 2007
She was detained and released later the same morning from the West Hollywood Sheriff Station on

US$

10,000 bail.
On January 11, 2008, Barton called into Ryan Seacrest's radio show On Air with Ryan Seacrest (KIIS FM) and took full responsibility for her actions:
"I was pulled over... just that. Obviously, I'm 100 percent responsible for my actions in this case and I'm really disappointed in myself... I don't know what to say about it, except that I'm not perfect and I just don't ever intend to do something this stupid again.


7. Rachel Bilson
Rachel Sarah Bilson (born August 25, 1981) is an American actress. After growing up in a California show business family, she made her television debut in 2003 and subsequently became well-known for playing Summer Roberts on the prime time drama series The O.C. Bilson made her film debut in the 2006 film The Last Kiss and starred in the 2008 action/sci-fi film Jumper.
Bilson began dating her The O.C. co-star Adam Brody in 2003. In late 2006, Bilson and Brody ended their relationship. In March 2007, she started dating Canadian actor Hayden Christensen, after meeting on the set of Jumper. The couple got engaged in December 2008, over the holidays. Bilson has been recognized by several media sources as being a "fashion junkie". Of her line, she said in an interview with Teen Vogue "I wanted to keep it as separate as possible from Rachel Bilson the actress. I'm hoping people will appreciate it for the clothes, not the person behind them." Much of her fashion collection was lost when her home was burglarized in May 2009. Bilson has turned down requests to appear seminude in men's magazines, specifying that she feels that her body "is sacred" and "not there for the whole world to see. However, she has been featured in a pictorial in the men's magazines Stuff and GQ.

8. Beyonce Knowles
Beyoncé Giselle Knowles (born September 4, 1981), best known mononymously as Beyoncé
an US-American R&B singer, songwriter, record producer, dancer, choregrapher, video director, actress and model. Born and raised in Houston, Texas,
Knowles has become known as a sex symbol.
According to her, "I like to dress sexy and I carry myself like a lady," but she has said that the way she dresses on stage is "absolutely for the stage". She flashes here ass and tits?
Since 2002, Knowles has been in a relationship with rapper Jay-Z, with whom she has collaborated several times. On April 4, 2008, Knowles and Jay-Z were married in New York City. It became a matter of public record on April 22, 2008.
9. Jennifer Lopez
Jennifer Lynn Lopez (born July 24, 1969[1]), often nicknamed J.Lo, is an American actress, singer, record producer, dancer, fashion designer and television producer. She is the richest person of Latin American descent in Hollywood according to Forbes
She has had high-profile relationships with Ojani Noa, Cris Judd, Sean Combs, Ben Affleck, and Marc Anthony. Her first children, fraternal twins named Max and Emme, were born on February 22, 2008
It was reported that Lopez and Anthony were taking professional business meetings at the Church of Scientology Celebrity Centre in Hollywood, California, in late 2006. It was also rumored that Lopez and Anthony became Scientologists during that period with the help of Angelo Pagan, the husband of "King of Queens" actress and Scientologist Leah Remini.[59] Just prior to those reports, Lopez said to NBC, "I'm not a Scientologist, I was raised Catholic. But it's funny the way people come at it. To me it's so strange. These are some of the best people I've ever met in my life.
Lopez gave birth on February 22, 2008 to fraternal twins, a girl and a boy, Emme Maribel Muñiz, and Maximilian "Max" David Muñiz. The twins were introduced in the March 11, 2008 issue of People magazine for which the magazine paid $6 million.
10. Kelly Brook
Kelly Brook (born Kelly Ann Parsons on 23 November 1979) is an English model, actress, occasional swimwear designer and television presenter.
Dated English actor Jason Statham for seven years before splitting in 2004. The couple lived together in Los Angeles and Herne Hill, south London.
Brook met American actor Billy Zane while filming thriller Survival Island in Greece in 2004. Brook and Zane were engaged to be married in the summer of 2008 and acquired a house in Kent, but Brook postponed the wedding upon the death of her father in November 2007. The couple split in April 2008 and briefly got back together before ending their relationship for good in August 2008.[13]
Brook has been dating Wasps rugby player Danny Cipriani since September 2008


An orgasm (from Greek orgasmos, from organ to mature, swell, also sexual climax) is the peak of the plateau phase of the sexual response cycle, characterized by an intense sensation of pleasure. Experienced by both males and females, orgasm is controlled by the involuntary, or autonomic, limbic system, and is accompanied by quick cycles of muscle contraction in the lower pelvic muscles, which surround the primary sexual organs and the anus. Orgasms are often associated with other involuntary actions, including muscular spasms in multiple areas of the body, a general euphoric sensation and, frequently, body movements and vocalizations are expressed.
Orgasm is a autonomic physiologic response to sexual stimulation by self or between partners. Brain activity scans indicate the importance of the limbic system in the orgasmic response. In humans, orgasm is typically correlated with the stimulation of the glans penis in males and with the stimulation of the clitoris in females. Stimulation can be by self (masturbation) or by partner (mutual masturbation) or by other sexual activities. Partners simultaneously stimulating both the male's glans penis and female's clitoris by mutual or simultaneous masturbation, rhythmic inter-genital contact friction or actual penetrative intercourse can lead to orgasm in one or both partners, sometimes simultaneously, known as simultaneous orgasm. Mixed gender or same gender partners can both stimulate and learn to control each other's orgasms.
The moments after orgasm are often a relaxing experience, which is attributed to the release of neuro hormones oxytocin and prolactin. Male and female brains demonstrate similar changes during orgasm (by partner controlled orgasm), with brain activity scans showing a temporary reduction decrease in the metabolic activity of large parts of the cerebral cortex with normal or increased metabolic activity in the limbic areas of the brain.
Stumble It!