COMET HARTLEY 2 -- amazing NASA image
The EPOX spacecraft has made some cool photos
of COMET HARTLEY 2
NASA's Deep Impact (EPOXI) probe has just completed its 435 mile flyby of Comet Hartley 2's nucleus. The spacecraft has turned its high-gain antenna toward Earth and data are being transmitted to mission control at JPL. The first raw images have just arrived and, even without processing, they are spectacular
In recent years, international spacecraft have buzzed the cores of four comets: Halley, Tempel 1, Borrelly and Wild 2. Deep Impact even blew a hole in one of them (Tempel 1) to see what was beneath the surface. Those previous flybys, however, may not have prepared researchers for the comet at hand.
"Comet Hartley 2 is smaller yet much more active than the others," explains A'Hearn. "Although its core is only 2 km wide—about a third the size of Tempel 1—it is spewing five times more gas and dust."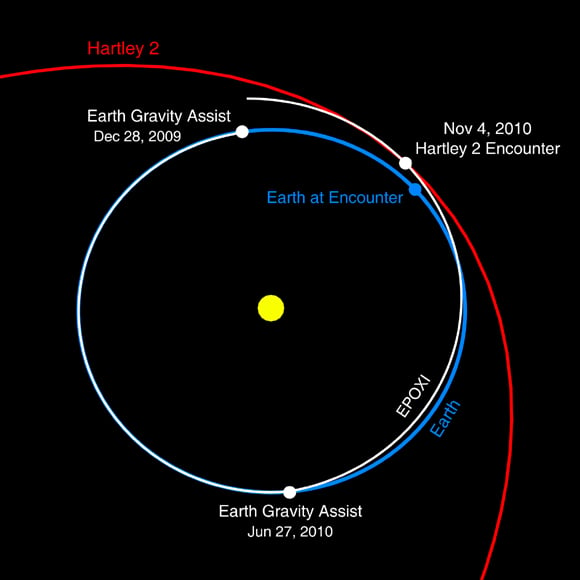 earth gravity assist path to komet
The comet has already shocked the science team by producing a massive surge of CN, the cyanogen radical commonly known as "cyanide." Cyanide itself wasn't the surprise; CN is a common ingredient of comet cores. Rather, it was the size and purity of the outburst that has researchers puzzled.
"The abundance of CN in the comet's atmosphere jumped by a factor of five over an eight day period in September—that's huge," says A'Hearn. "Curiously, however, there was no corresponding increase in dust."
This flies in the face of conventional wisdom. Comet cores are thought to be a mish-mash of volatile ices, rock, and dust particles, generally well mixed. When the ice evaporates to produce a jet of gas, dust naturally comes along for the ride. Yet this outburst was pure gas.
Stumble It!