The Big Lie - Bariton Women -- Frank Zappa
(don't miss the VARESE VIDEO on the bottom of this posting)
The Big Lie (German: Große Lüge) is a propaganda technique. The expression was coined by Adolf Hitler, when he dictated his 1925 book Mein Kampf, for a lie so "colossal" that no one would believe that someone "could have the impudence to distort the truth so infamously."
http://www.youtube.com/watch?v=oBIcxstki1w
They got lies so big
They don't make a noise
They tell 'em so well
Like a secret disease
That makes you go numb
With a big ol' lie
And a flag and a pie
And a mom and a bible
Most folks are just liable
To buy any line
Any place, any time
When the lie's so big
As in robertson's case,
(that sinister face
Behind all the jesus hurrah)
Could result in the end
To a worrisome trend
In which every american
Not 'born again'
Could be punished in cruel and unusual ways
By this treacherous cretin
Who tells everyone
That he's jesus' best friend
When the lie's so big
And the fog gets so thick
And the facts disappear
The republican trick
Can be played out again
People, please tell me when
We'll be rid of these men!
Just who do they really
suppose that they are?
And how did they manage to travel as far?
As they seem to have come.
were we really that dumb?
People, wake up!
Figure it out!
Religious fanatics
around and about
The court house, the state house,
the congress, the white house
Criminal saints
With a 'heavenly mission'
A nation enraptured
By pure superstition
Is everybody happy?
When the lie's so big
And the fog so thick
And the facts is forgotten.
The republican trick
Can be played out again
People, please tell me when
We'll be rid of these men!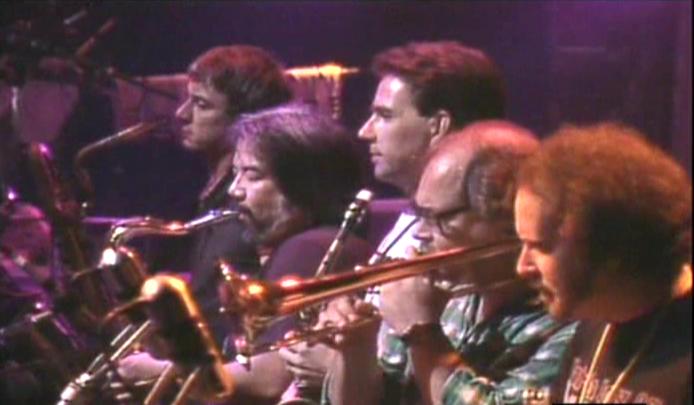 frank zappa brass section
strictly commercial  the best of Frank Zappa
On the planet of the baritone women

They talk low
'bout stuff they know,
They sing 'oooh!'
And laugh at you!
Ah-ha-ha-ha-hah! Ole!
If you can't
If you can't
Do it too
Do it too
Ah-ha-ha-ha-hah!
They sing 'li-li-li-li!'
They sing 'lo-lo-lo-lo!'
The man carry purses
Wherever they go
Junior executives.
All in a row,
Watch the baritone women
Do the baritone show
Ah-ha-ha-ha-hah!
They sing about wheat;
They sing about corn;
They sing about places
Where women was born
They sing about hate
They sing about fear
It seems like they all got
a pretty good ear
Ah-ha-ha-ha-hah!
They sing it in harmony
not often heard
With a big ol' cadenza
On every long word
They keep it as low
As they possibly can,
And sometimes they walk
Like an e-gyp-tian
Ah-ha-ha-ha-hah!
They do choreography
Still more unique!
They leave their legs open
Whenever they speak!
They roll their eyes upward.
And over again,
And slam their legs closed
When they sing about men!
Those baritone women!
They are not your friend!
You will make a mistake
If you go there again!

Broadway the Hard Way
is a Frank Zappa live album recorded at various performances along his 1988 world tour
Mostly focused on acute satire of contemporary figures, both political and social. Throughout the album Zappa's individual targets include Richard Nixon and Ronald Reagan on "Dickie's Such An Asshole", Jesse Jackson on "Rhymin' Man", Jim and Tammy Faye Bakker and Pat Robertson on "Jesus Thinks You're A Jerk", and Michael Jackson and his family on "Why Don't You Like Me?"
The album contains a relatively large number of covers, from the jazz standard "Stolen Moments" to the The Police song "Murder by Numbers" (with a guest appearance by Sting himself). "Outside Now" is from Joe's Garage, and "Why Don't You Like Me" can be easily recognized as a remake of Zappa's "Tell Me You Love Me". "Rhymin' Man" is filled with melodic quotes from evergreens such as "Happy Days Are Here Again", "Hava Nagila", "La Cucaracha" and "Frère Jacques". In "What Kind of Girl" there is a line from "Strawberry Fields Forever" and also includes a part from the "Battle Hymn of the Republic" while "Jesus Thinks You're a Jerk" quotes "Louie Louie", "Rock of Ages" and Marius Constant's Theme from "The Twilight Zone".
* Frank Zappa - guitar, producer, main performer, vocals
* Kurt McGettrick - baritone saxophone
* Scott Thunes - bass guitar
* Albert Wing - tenor saxophone
* Ed Mann - percussion
* Chad Wackerman - drums
* Ike Willis - guitar, vocals
* Eric Buxton - vocals
* Paul Carman - alto saxophone
* Walt Fowler - trumpet
* Mike Keneally - synthesizer, vocals, guitar
* Sting - lead vocal on "Murder By Numbers"
* Bruce Fowler - trombone
* Robert Martin - keyboards, vocals
Zappanale

In 2008, the Zappa Family Trust sued the organizers of the Zappanale Festival, held just outside of Bad Doberan, Germany, demanding that they change the name of the festival, remove their promotional posters (which contained an allegedly trademarked moustache similar to Frank Zappa's) and remove the statue of him that has stood in the city center since the 1990s. In January 2009 the court found in Zappanale's favor after their defense argued that since the Zappa Family Trust only sells products on the Internet and accepts only U.S. dollars they had not effectively exercised their trademarks in Germany for over five years. Similarly, the use of the moustache was sufficiently different in Zappanale's merchandise so as not to cause confusion between the two
Edgar Varese
ZAPPA by age 12,developed a deep interest in modern classical music when he read a LOOK magazine article about the Sam Goody record store chain that lauded its ability to sell an LP as obscure as The Complete Works of Edgard Varèse, Volume One.
The article described Varèse's percussion composition Ionisation as "a weird jumble of drums and other unpleasant sounds". Zappa decided to seek out Varèse's music. After searching for over a year, Zappa found a copy (he noticed the LP because of the "mad scientist" looking photo of Varèse on the cover). Not having enough money with him, he persuaded the salesman to sell him the record at a discount. Thus began his lifelong passion for Varèse's music and that of other modern classical composers.
WATCH IT: 
http://www.youtube.com/watch?v=a9mg4KHqRPw
;-)
Stumble It!